Every artist has taken a look at pastel pencils and wondered if they were right for their artistic process.
And while the soft colors are very alluring, are they really worth the price? Should you invest in these colorful instruments? If you're on the fence, get ready to have your answers soon, and hopefully some new gorgeous pencils too.
But just in case you're unfamiliar with art supplies, we'll start with why pastel pencils are right for you.
Why Pastel Pencils?
You might wonder why you want to invest in pastel pencils instead of charcoal.
For starters, they can give your artwork the pop of color that charcoal simply cannot. That, and they allow you to truly breathe life into your work.
From using them in painting to sketching when on the go, they allow you to capture vivid colors wherever you are.
What Are Pastel Pencils?
Pastel pencils are exactly what they sound like. They are a pastel material transformed into a wooden pencil.
They have higher concentrations of pigment in them, leaving behind stunning colors.
Like charcoal and other types of traditional pencils designed for artistic use, they can be sharpened to a point and used to create stunning works of art.
From paintings to drawings, soft pastel pencils are a fantastic investment.
Pastel pencils vs. colored pencils
There are a couple of differences between colored pencils and pastel pencils. The biggest difference is the materials.
Colored pencils aren't full of pure pigmentation like pastel pencils are; they're much more solid, and it's harder to blend them. That's because of their oil or wax-based core.
Pastels are much more soft and delicate in comparison and can be used to create much softer works of art, capturing either the fluffy fur of animals or the smooth color of a sunset.
In short, pastels are better for blending and adding softness to art, while colored pencils are better for harsh lines and fine detail.
How to Choose the Best Pastel Pencils
When choosing the right pencils for you, it's important to do your research and consider every factor. We know that. That's why we're going to do our best to answer your questions.
So, where do you start when picking out new pastel pencils?
Begin with the overall quality and then move on to the type because, yes, there are different types out there. Five, to be exact. And it's important to choose the one that's right for you.
Pastel types
The first is soft pastels, which are the kind most commonly used. They are very fragile and crumble easily because they are simply a pigment held in place with a gum binder.
Soft pastels are amazing for capturing the most color in a piece, and their fragility makes them perfect for blending.
Next, we have hard pastels, which are pretty much the same as soft pastels. The only difference is that they have less pigment and more binder.
That means they're tougher than soft pastels, but that also means that their colors are less intense.
Let's move on to PanPastels. These are simply a new form of soft pastels stored in a shallow pan or jars.
PanPastels have far less binder than other methods, meaning that the pigment is better protected, there's far less waste, and the pan they come in is great for storing and transporting them!
Pastel pencils, our star of the hour, are the best way to capture incredible detail while still utilizing the intense pigments.
They're also incredibly versatile, and you can use them with another pastel of your choosing. Pastel pencils are most commonly used alongside oil pastels — which we'll introduce you to.
And finally, we have oil pastels.
Oil pastels are very much like the previously mentioned pastels; only they're sticks bound together with wax and oil instead of gum.
The best part of oil pastels is that they will not crumble, release airborne dust, or smudge like other pastels will. However, the lack of smudging can be a double-edged sword.
Because they're so waxy, they may remind you of crayons, but they're far from them as far as quality goes. With these, you'll be creating stunning art in no time.
Color Us Impressed
We've looked high and low for the best pastel pencils out there, and we've brought you some of the most gorgeous collections we could find.
From sets full of skin tones to pastels from Paris, these sets will have you well on your way to creating art as soon as they arrive.
Without further delay, let's dive into the list so you can get yourself some amazing pastels as soon as possible.
Skin tint pastel pencil set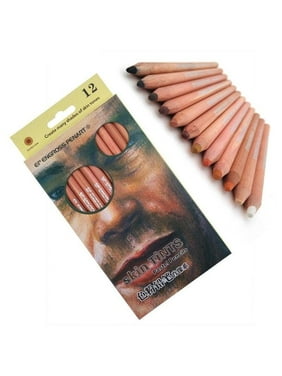 Our first top choice for a brand new set of pastel pencils is from Walmart.
This professional set is high-quality, vivid, and made with blending in mind. You can layer the diverse colors on top of one another too.
They're made out of sturdy wood and soft, smooth cores to last through plenty of works.
Plus, they're perfect for portraits because they were made with drawing people in mind. With 12 skin tones to choose from, you can blend them together to create every shade under the sun.
They're also built to last. These pastels resist cracking and chipping, so you don't have to worry about them crumbling in your palm.
General Pencil's pastel chalk pencils
[amazon fields="B000AMLQSI" value="thumb" image_size="large"]
[amazon fields="B000AMLQSI" value="button"]
If you've never had pastel pencils before, these are fantastic for getting started.
This little collection of 12 pastel colors on Amazon is made in the U.S and includes its own sharpener, and each pencil has an eraser!
These are perfect for capturing a ton of detail if you're using them on pastel paper, and can even be used for painting.
Their smooth pigment is oil and acid-free, too. They're perfect for outlines, shading, lettering, chalking, aging, and rouging.
So with these, you know you're getting the absolute best without completely emptying out your wallet.
Derwent Store pastel pencils
[amazon fields="B000J6BYTG" value="thumb" image_size="large"]
[amazon fields="B000J6BYTG" value="button"]
If you're looking for color, this is just the set for you because you'll have almost every shade under the rainbow.
In this set from Derwent on Amazon of either 12, 24, 36, or 72, you'll get pastel pencils that are easy to hold and use.
They're smooth, and their design makes it easy to blend the colors and create stunning pieces. They have a fine point to allow for amazing detail as well. And they're especially helpful when it comes to layering and blending.
The only drag is that some of the colors could be a bit more vibrant.
But overall, these are a great set to invest in if you're just starting out or you're looking to branch out.
STABILO carbothello pastel pencil set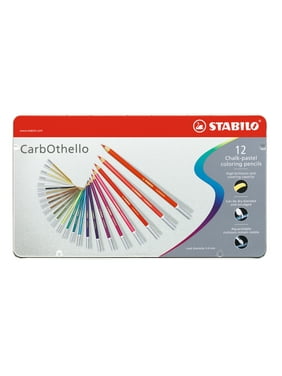 Whether you're an art student who is just starting or an artist spreading your wings at home, this is an amazing set.
These pencils available from Walmart are pastel chalk and easy to blend when they're dry. You can smudge them with either your blending stump or your fingertips with ease.
This set of 12 won't break the bank, either. It's all-around a great option!
And you know you're getting quality pencils because of their high pigmentation and their ability to be worked with a brush and water, too.
They're a great investment and perfect for beginners.
Royal Brush pastel pencil art set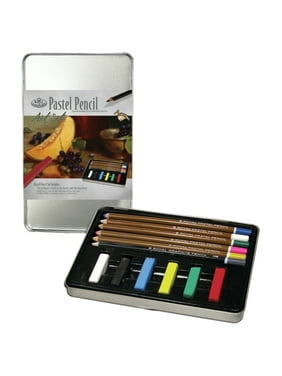 This next set is excellent for taking with you anywhere because of its size and convenient tin.
The set comes with five pencils, six soft sticks, and a graphite pencil, plus a convenient storage tin for artists on the go!
The soft pastels are a huge bonus because they open up an entirely new revenue for creating stunning works of art. From blending to scumbling to layering, the possibilities are endless.
The pencils themselves are great for very fine lines, which makes them ideal for sketching.
KOH-I-NOOR soft pastel pencils
[amazon fields="B00JRFXIOO" value="thumb" image_size="large"]
[amazon fields="B00JRFXIOO" value="button"]
Another set of soft pastel pencils to add to your collection of supplies are from KOH-I-NOOR.
Made from 100 percent FSC wood and soft cores, this company has been working to get artists the supplies they deserve since 1790. These are the highest quality pencils that money can buy.
And if you end up falling in love with these pastel pencils, know that this company also carries paint, chalk, erasers, and more!
This set of 24 also spans over many different colors.
They're made to resist fading, and minimize smudging. No more worrying about ruining your fine lines!
Conté à Paris pastel pencils
The next pastel pencils on our list are some high-grade supplies that any professional is bound to love.
Conté à Paris pastel pencils have 5mm cores that will glide across your paper and leave behind stunning colors. You'll have 48 pencils at your fingertips if you choose this set.
They're also non-toxic and made out of wood and lead.
While the colors are stunning and worth the steep price, the packaging is exactly the opposite.
They do not have a quality tin, so if you do want these pastel pencils, you'll need somewhere to keep them. You'll also need a special sharpener to bring the pencils to a point.
But as for the pencils themselves, they are nothing short of fantastic.
Getting Started with Pastel Pencils
Before you create art with your new tools, however, you need to know the basics.
You should, of course, use mid-tones and darker colors, avoid pressing too hard, and work your way up from light colors to dark. But how can you make sure your pencils are ready?
Let's start with sharpening because dull pencils won't get you anywhere.
How to sharpen pastel pencils
You know that you'll never get anything done with a dull pencil, but you also don't want to potentially harm your pencils.
One of the best ways is to sharpen them is with a knife.
What you want to do is hold the pencil securely in your hand and sharpen it with the blade facing away from you.
Sharpen the pencil lightly because if the strokes are too harsh and fast, you may end up breaking the tip and having to start all over.
How to use pastel pencils
The beauty of art is that there are no true rules. The entire point is to express yourself in your own way, so technically speaking, there is no wrong way to use pastel pencils.
But if you'd like to follow traditional use, then that's perfectly fine too.
Start by using the lightest colors in your piece first, moving the pencil lightly over the paper. Pressing too hard will only result in difficulty undoing potential mistakes.
Once you have a light base down, use your darker, richer colors on top. Whether you choose to blend them with your fingers or a blending stump is up to you.
From there, the sky is far from the limit. What you make, how you create it, and your muses inspiring you are simply up to you.
Listen to Your Art
Now you have the very best at your fingertips, and you have a nice long list of pastel pencils to choose from.
Whether you're shopping around for yourself or looking for gifts for a budding artist, we hope you love the pencils you end up with and you love the art just as much.
Which pastel pencils do you have? Would you recommend them to other artists? Leave us a comment down below and let us know! We're always looking forward to hearing from you.
——————————————————————-
Mady Oswald is an author and freelance writer in both realism and fiction, with a love for baking and animals.